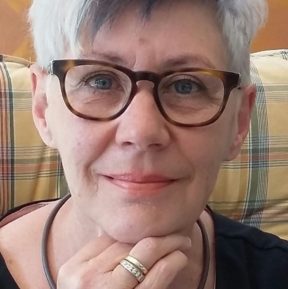 Margot Crombeecke
I was born and raised in Hamont, Belgium, and have started figure painting in 2014.
About 15 years ago I have started drawing, as an autodidact, and later also moved to canvas painting. At the start I used mixed media, mainly using acrylics. Because I also wanted to learn how to work with oil paints, I went to the Art Academy in Arendonk, Belgium in 2009 where I followed the adult educational program, and in the three years that I attended I have learned a lot about perspective, composition, colour, texture, but above all, I have learned to look and watch. The most important aspect about any kind of art you may endeavour is actually seeing what you're looking at!!!
Due to health issues I was forced to quit the study after three years, but I haven´t stopped painting and drawing since.
Pepa Saveedra was my main source of inspiration, and has become a dear and sweet friend later on. But Roman Lappat was the one that pushed me to take the step and gave me confidence. At the end of our show in 2014 he said to me: "take this figure and start paining it. It doesn't matter in which colour, even it is purple (which is exactly the colour it got) and have some fun. If someone tells you it's all wrong, ignore them. But start tomorrow and not next week!"…and so it happened.
I haven't stopped paining ever since….but initially I returned to acrylics!!
However, acrylics and I are not a good match, and I did not achieve the results I was after. I began asking for advice and looked around and switched to starting with a base coat of acrylics and continued with oils. Still, it was not what I was looking for. In that period I stripped and cleaned every figure once or twice to start all over again. I couldn't get the colours as I wanted them and colours are very important to me. I believe my figures show this.
Yet, I kept thinking "why first acrylics? When I paint on canvas I don't start with acrylics either, so why would I do it on a figure?"  But everybody told me it was the way to do it. It was not until I contacted Alexander Cortina Bonastre, the owner of Alexandros Models and a great artist who paints exclusively with oils. He is the one that confirmed to me there's nothing wrong with using oils paints almost exclusively and he has been my tutor and back up for some time now.
I really enjoy painting figures and always have several projects underway.
This hobby has brought me so many new experiences and friends from all over the world and I love meeting up them when I visit a show, which is another great aspect of this hobby: meeting with friends that share the same hobby and all speak the same language: the universal painting language.