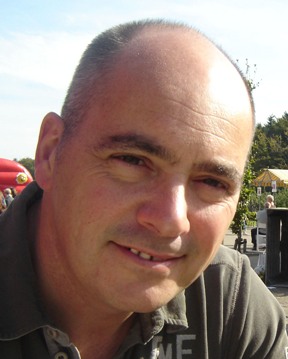 Robert Crombeecke
I was born in 1962 in Utrecht, the Netherlands, but was raised in Eindhoven, where I have lived for most of my life.
Professionally, I have been involved in procurement with various companies in the Netherlands and Belgium.
As for my spare time, my two passions are scale modelling and scuba diving. The latter unfortunately at a low profile nowadays,
but I am a certified PADI Master Scuba Diver Trainer and have worked full time in Egypt in that capacity in the past.
Like most modellers, my modelling career started when I was about 12, mainly building Airfix 1/72 airplanes and vehicles. When I turned 16 life and
other priorities got in the way of scale modelling and I returned to the hobby only at the age of 34. Being employed by a Belgian company at that time,
I was near to a great source of inspiration and expertise, as Belgium in my opinion hosts some of the best scale modellers in the world, and in fact some of them are not that far from where I live.
Although the majority of my earlier work has WWII related themes, I find myself painting figures more and more from which I'm trying to find new challenges and approaches to express myself.
Regardless if I paint figures, make dioramas, or build AFV's or other subjects: my main drive is to tell a story….in miniature. And although I hugely appreciate
the craftsmanship and sheer skills of modellers who make standalone vehicles, aircraft or figures: the stuff that conveys a story, whether big or small, always
and immediately catches my attention and it inspires me over and over again .
Hence the title of this website: Stories In Miniature.
Since 2007 I have also taken on another "hobby", which is organizing  Scale Model Challenge (or SMC). In the same year I have started a scale modelling club as well, Scale Model Factory of which I am still president. Inevitably, all of this has taken up part of my bench time, but organizing stuff is in my DNA, and always has been, looking back at it. Can't help it, and I wouldn't want it to be any different.
I hope that you can appreciate my scale modelling and painting projects, and if you feel like dropping me a line, please do so. I'd be more than happy to answer any questions you may have.
Happy modelling